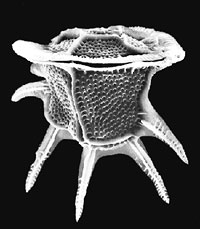 The song of Bob the Dinoflagellate often permeates the walls and halls of the pod, much to the hatred of Mr. Bey. The song, well known by most Panthers, goes
Bob the Dinoflagellate, Bob the Dinoflagellate,
Bob the Dinoflagellate, he's a eukaryotic cell.
The verses continue with Joe the Eubacterium, Steve the Paramecium, and Don the Common Cold Virus. Rejected verses include Jim the Asian Elephant.
After receiving the true word of the Dinoflagellate from Bob himself in a dream, Michael Green started the cult on April 13, 2012 with Nikhil Sivapatham and Sam Qunell, worshiping many shared virtues such as shamelessness, insomnia, humor, insomnia, randomness and insomnia...oh and insomnia.
Current Members
Edit
Michael Green (Possibly)
Sam Qunell
Nikhil "Kai-Shek" Sivapatham
Jack "Churchill" Brandt
Jakob "Roosevelt" Myers
Keshav "Trotsky" Kapoor
Kelsey Belle
Trent Ness (Maybe)
Matthew Kelsey
Kevin Chen
David Hickox
Chris "Molotov" Ng (Possibly, if he passes initiation...)